Planning a wedding on budget requires finding inexpensive wedding flower ideas. One of the simplest options for bargain wedding flowers is to use
vintage glass planters
or
compotes
. Use potted plants and either place them in the planter in the pot or plant them in the planter or compote and cover the soil with moss, shells or stones.
In the fall or winter months use potted African violets (they come in white, pinks, purples), plant paper white bulbs, small indoor mums or small rose plants. In the spring, pots of primulas or bulb plants such as short tulips, narcissus, irises, or hyacinths can be striking and fresh. In the summer months, dwarf sunflower plants and annual flowers of all kinds can be a very green way to decorate with flowers as the plants can double as wedding favours.
Using
vintage bud vases
can keep costs down as often a single flower with greens and baby's breath can create simple arrangement. A newer trend is to use one stem (gerber daisy, orchid look-alike etc.) and grass or just a mass of baby's breath for a simple, clean, modern but soft look. You can use typical milk glass bud vases (below) or use vintage bottles or candle holders.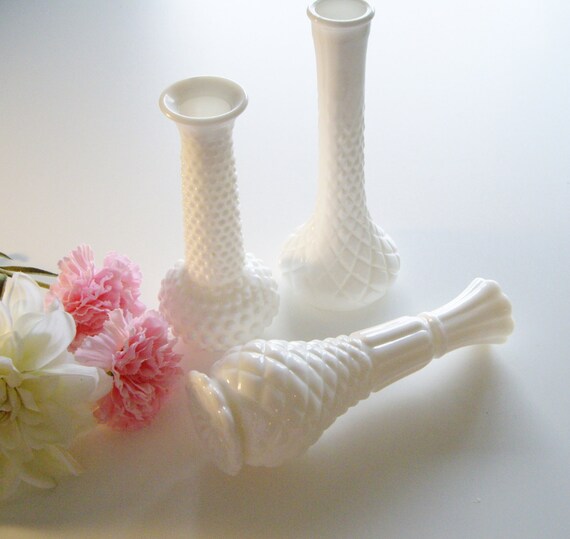 Using backyard garden flowers and herbs can also save a bride a lot of money. The arrangement below from
Poppies and Posies
is made of two peony stems and springs of mint and lavender - flowers and herbs commonly found in backyard gardens.
Other backyard flowers (*easy to grow from seed in most regions) that can be striking in simple arrangements are:
hydrangea
daisies
mums
gladiolas
dahlias
lilacs
lily of the valley
carnations
ranunculus
sweet peas*
poppies*
allium (flowering chive)*
nasturtium*
pussy willows or other willow branches
greens - ivy, fern, long grass, herbs (sage, lavender, mint, rosemary, basil - note that some herbs will give off a scent e.g. rosemary so make sure you like the scent)
Nothing says weddings as much as pearls. Purchase a package of pearl top quilting pins (sewing supply) or
corsage pins
(flower arranging supply) and chose flowers that are small and the center will contrast with the pearl pin. Another similar option is to hot glue diamond rhinestones onto the center of a few buds for each arrangement for a unique touch of bling.
The new modern way to arrange flowers is to cut stems short and create a dome of flowers. Start by stretching a circle of chicken wire over the top of the planter or compote or create a crisscross pattern with scotch or florists tape to cover the top of the planter or compote that is half full of water. This will help support the stems especially in a wider mouth vessel. Oasis or flower foam can also be used as in
this video
.
Start by cutting some of the taller stems for the middle of the dome. Then add shorter stems arranging them to create a rounded mass of flowers or buds.
Nico De Swert from Pottery Barn
has some great Youtube videos using simple designs and reproduction glass vases - of course, you can use the same techniques with vintage glass vases and containers.
Of course, artificial flowers can also be a very inexpensive way to go. The arrangement below was made from two bunches of artificial roses purchased at a dollar store. White tulle can add volume and soften the bouquets You can also add ribbon in that matches the wedding colour.