One great way to add both a vintage flair and some fun to your next party or to a wedding, anniversary or other large event is to create a candy table.
Candy tables are like salad bars for the sweet toothed friends in your crowd. Marvel them with candy of various shapes and sizes within a colour theme.
Don't be shy to use
interesting vintage glass containers
to display the candy. Vases, jars, flower frogs, tumblers, wine, champagne or martini glasses, tumblers, decanters and candle holders can all be used in a candy table display.
Some of the secrets to a good display are to:
Create varying heights - use tall vases, footed compotes, a low dishes or bowls.
Arrange and group them in sets of odd numbers - e.g. sets of 3 or 5 that are different heights, shapes or sizes.
Label the flavours - help your guests choose their favourites.
Use shades of one colour - notice that the photos depict various shades (dark to light) of a colour.
Offer spoons, tongs or scoops or only use wrapped candies to keep things hygienic.
Clear glass containers are best for showing off colourful candy however coloured glass containers can add some variety to the table.
You can stick with just candy or add nuts, cupcakes or pastries to the table.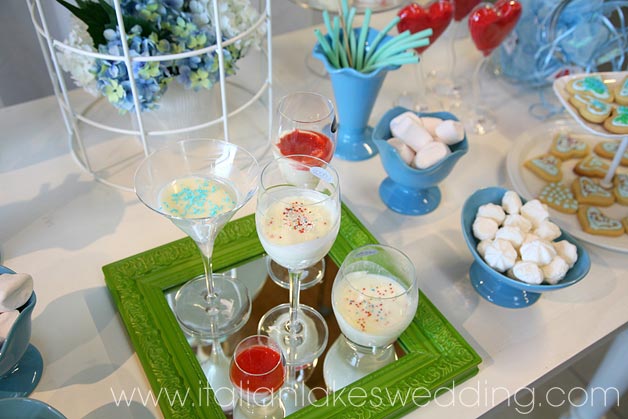 Need more ideas? Click on the image below for more information about this book that shows how to create displays of everything sweet: